teresas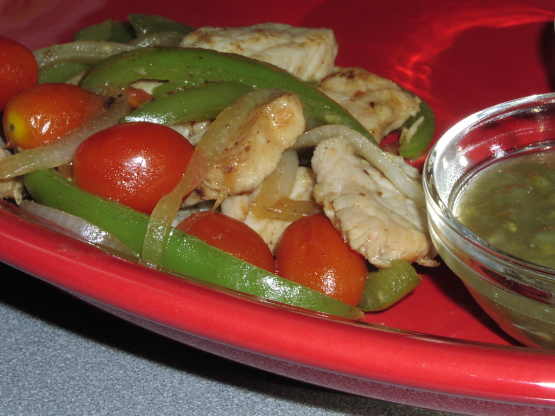 An easy, delicious stir-fry, especially in the summer when you have fresh cherry tomatoes and homegrown green pepper! Doesn't get any better than this! Got this from a magazine about 10 years ago, but don't recall which one.

DH kept nodding his head, he was too busy eating to tell me what he thought! Finally, he said this is a 10 star dish! I cut the pork crosswise, but... I think I should have cut it lenghtwise after cutting in quarters. I didn't have cherry tomatoes (couldn't find them at the store) so picked up grape tomatoes and left them whole. Served with hot (spicy) green chile salsa, warmed tortilla's, sour cream and recipe #41168 on the side. Great dish that should be tried by all. Thanks, Lilladyc for posting.
Combine sherry, cornstarch, cumin, garlic and salt in medium bowl; add pork slices and stir to coat.
Heat oil over medium-high heat in heavy skillet.
Add pork mixture and stir-fry about 3-4 minutes.
Add remaining ingredients, cover and simmer for 3-4 minutes.
Serve hot with green chile salsa, if desired.