Prep 10 mins
Cook 20 mins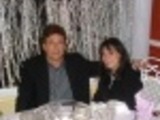 This recipe calls for an ingredient that I was not initially familiar with, being from the Northeast. Hominy, which I believe is also called posole, can be found with canned vegetables or south-of-the-border ingredients at the supermarket. From Real Simple Magazine.
Directions
In a small bowl, combine the sour cream, cumin, and 1/4 t. of the salt.
Cover and refrigerate.
Heat the oil in a large saucepan over medium-high heat.
Add the garlic and cook for 1 minute.
Add the tomatoes and their juices, the pepper, and the remaining salt and bring to a simmer.
Cook for 10 minutes.
Add the jalapenos or hot sauce and hominy and simmer for 5 minutes.
Add the shrimp and simmer until pink and cooked through, 3 to 4 minutes.
Ladle the soup into bowls, top with a spoonful of the cumin cream, and sprinkle with the cilantro.
Serve the lime on the side.
Most Helpful
wowser love this soup really good cherry bombers make this one

This is sooooo yummy! We love hominy so that immediately drew me to this recipe. I added 2 cups of vegetable broth to make it more soup-like and it was fabulous! I used diced jalapenos from a jar and used a heaping teaspoonful. It was spicy but not too hot. I will definitely make this again when I want a fairly quick but fabulous soup!

The sum of the flavors is greater than the parts for sure in this one! Absolutely delicious. It went together very fast and easily too. My only complaint would be that it really isn't soup. It's more like a shrimp saute. That didn't stop the two of us from eating the whole thing in one meal, tho. Awesome meal. Thanks. ZWT5