flower7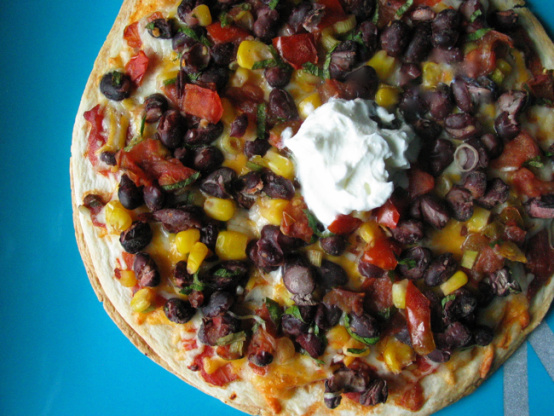 For bold, smoky flavor, try this with two sliced, grilled chicken breasts.

Totally delicious! I halved the recipe and used cajun seasoning instead of creole and left off the chicken to make it vegetarian. Otherwise made as directed and am looking forward to making another one tomorrow! Actually, I'm wishing now that I hadn't halved the recipe! LOL Thanks for sharing!
Top 4 flour tortillas evenly with 1 cup cheese; top with remaining flour tortillas. Divide picante sauce, Black Bean Salsa, chicken, and remaining 1 cup cheese over flour tortillas. Bake at 400° for 15 minutes, or until cheese is bubbly. Garnish, if desired.
*2 (11.5-ounce) cans refrigerated corn sticks may be substituted for tortillas. Unroll and press perforations to seal into a lightly greased jellyroll pan to create a rectangular crust. Bake at 375° on lower oven rack 10 minutes. Add toppings, and bake 15 more minutes. Makes 8 pieces.
Black Bean Salsa:.
Stir together all ingredients. Cover and chill until ready to serve.