berry271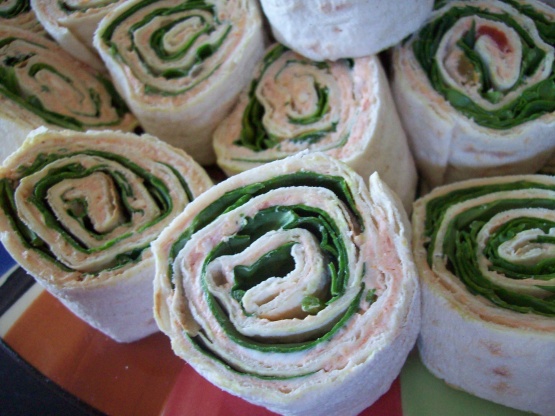 These appetizers really look and taste great! And they're really simple to make as well. The recipe can easily be doubled or tripled depending on how big a crowd your are making it for. Try using both green and red tortillas for a nice colorful platter. Cook time is for the filling's chill time.

I make turkey lavash (pinwheels) all of the time my family loves them..One thing I found with them is to use whipped cream cheese and add ranch dressing to the cream cheese and mix until it is a spreadable consistency. I get one tub of the whipped cream cheese (it is a small tub). I also use the light italian flat out bread as well when I need to make them in a hurry..But they never last in my house!! Just made a batch and they are already gone lol.
In a bowl, combine cream cheese, shredded cheese, scallion, salsa, cilantro and cumin and mix well.
Spread mixture evenly over the two flour tortillas- be sure to reach to the ends.
Place a single layer of the baby spinach leaves evenly over the crem cheese mixture.
Roll the tortillas tightly.
This step is important and will give the"pinwheel" look to your appetizers.
Wrap each roll in plastic wrap, and chill for at least an hour, or up to 8 hours.
After rolls are chilled, unwrap and cut each one in half.
Begin from the smooth half, and cut roll into 1 inch circles.
You should get 4 to 5 circles from each tortilla half depending on how well you tortilla"ends" hold together.
Arrange your pinwheels cut side up on your serving platter.
Cover and chill for up to one hour before serving.