Rita1652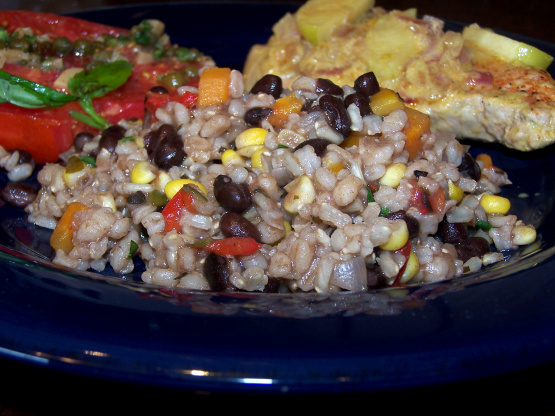 A hearty side dish that is sure to please. This can be served in place of Spanish rice and goes well with grilled meats and poultry.

This recipe combines an excellent combination of flavors! We enjoyed it so much! The only thing I changed was not to add the entire amount of rice and barley into the vegetables. The barley adds body and flavor to this dish and I would definitely not leave this ingredient out. We will look forward to enjoying this recipe again, Paula! Thanks so much for taking the time to share this recipes with us!
3

cups chicken broth
1⁄2 cup brown rice
1⁄2 cup barley

1

medium carrot, diced

1

tablespoon olive oil

3

garlic cloves, finely chopped
1⁄2 cup red onion, chopped

1

cup corn kernel (frozen or canned)

1

cup black beans, canned, rinsed, drained
1⁄2 medium red bell pepper, diced

1

jalapeno pepper, diced
1⁄2 teaspoon ground cumin
1⁄2 teaspoon dried oregano

2

tablespoons fresh cilantro, chopped
salt and pepper, to taste
In a medium saucepan with tight fitting lid, bring the chicken broth to a boil, stir in rice and barley; cover and cook for 30 minutes.
Stir in diced carrot, cover and continue to cook for an additional 15 minutes or until liquid is absorbed and grains are tender.
While the grains are cooking, heat the olive oil in a large skillet, stir in garlic and chopped onion and cook until onion is tender.
Stir in the corn and beans, heat until warmed; add jalapeño pepper, red bell pepper, cumin and oregano.
When the grains are cooked, add to skillet, stirring to combine.
Sprinkle in the cilantro, combine well; cover and allow to stand 5 minutes before serving.
Adjust salt and pepper to taste.