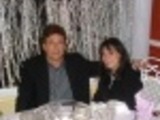 A delicious pasta salad that is a change of pace from the typical ones you see served often. Prep time does not include chilling time of 2 hours.
Directions
Cook pasta as directed on package, adding corn during last 2 minutes of cook time. Drain; rinse with cold water.
In large bowl, stir together salsa, olive oil, lime juice, and salt. Stir in pasta and remaining ingredients.
Cover; refrigerate at least 2 hours before serving.
Reviews
Most Helpful
This is an awesome salad! I don't really care for most pasta salads, finding them 'blah'. The (good quality) salsa makes it. Just gets better over a couple of days!

Easy enough of a recipe that anyone that can boil water can try. I would caution that you must really love the salsa as it is the heart of the recipe, I did enjoy the slsa that the author recomended and it works very well, but can be too spicy for some, so know your audience!
I love this recipe! I pretty much made it as is except I used a cup of canned corn (Green Giants Shoepeg) instead of fresh and green pepper instead of red, its what I had on hand and it was sooooooooo good. I love the combination of the corn with the beans and pasta in this. I have made this several times now and I do think fresh salsa tastes best, but the jar type works well too. I think fresh chopped tomatoes would also work well. My favorite pasta salad now!!