Southwestern Corn Chowder
Bayhill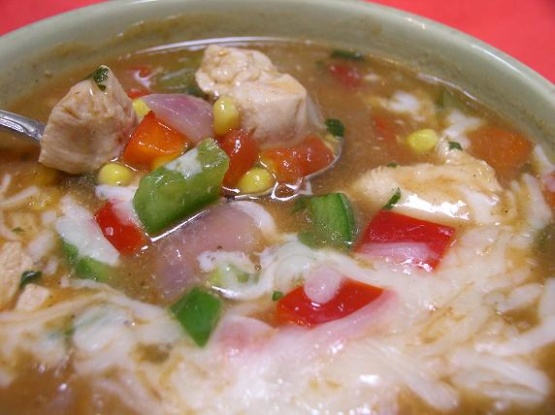 From The Taste of Home Cookbook.

Very good and easy to make. I did change it up a bit because of what I had on hand. I used precooked chicken and 1/2 cup of frozen cut onions. I didn't cook them in oil. I just added them to the pan. I used 32 ounces of chicken broth and an 11 ounce can of corn (I'm not a fan of frozen veggies). I also only had green pepper so I used a cup of that. Everything esle I followed. This had just the perfect amount of heat for me. I am a whimp when it comes to spicy but this was just right. I did top our servings with mexican blend cheese. Very good and even better when it sat and the flavors melded.
In a 3 quart saucepan, cook chicken and onion in oil until chicken juices run clear. Stir in cumin. Add broth, corn, and picante sauce; bring to a boil. Reduce heat; cover and simmer for 15 minutes. Stir in peppers and cilantro.
Combine cornstarch and water until smooth; stir into soup. Bring to a boil; cook and stir for 2 minutes or until slightly thickened. Spoon into bowls; top with cheese if desired.