Southwestern Chicken Skillet
Lori Mama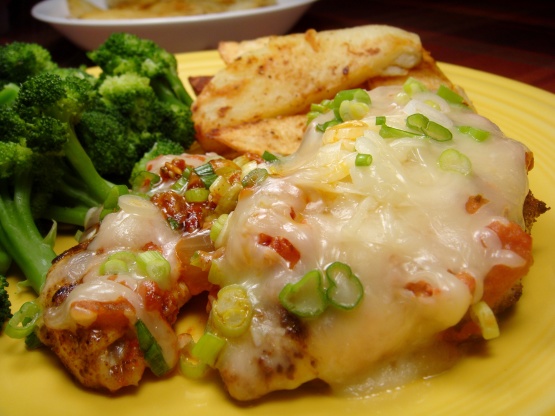 One from my recipe box - something I clipped from a newspaper.

10 STARS! I threw together a homemade salsa and used about 1 cup, keeping everything else the same. The Dijon adds a fantastic layer of flavor mingling with the lime of the salsa. For the chili powder, I used dried Chipotle and to make was quicker than quick. I've got an idea! Let's get together and eat until we fall over. Made for Everyday Is A Holiday.
Sprinkle chili powder, cumin and salt over chicken.
Heat oil in a large nonstick skillet over medium heat.
Add chicken and garlic; cook 5 minutes.
Turn chicken over.
Combine salsa and mustard; spoon over and around chicken.
Continue cooking, turning chicken and stirring sauce, 5 minutes or until chicken is cooked through.
Sprinkle cheese and onion (or cilantro) over chicken.
Continue cooking 1-2 minutes or until cheese is melted.