Southwestern Chicken & Barley Soup
PaulaG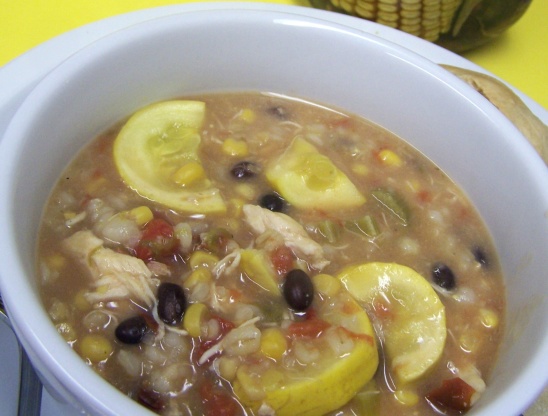 I recently purchased some barley as a way to introduce new grains to my diet. Found lots of good ideas for barley on this site and came up with my own soup. Perfect fall soup with comfort from the barley and chicken with a little heat from the chilies. Since the ingredients here reflect my pantry and tastes, you should feel free to adapt it to your own. I can see using green beans instead of zucchini or thighs instead of breasts.

Loved this soup! I made some substitutions out of necessity (had no green pepper, so used red and had no ancho chilies, so used chili powder and cayenne), some for health reasons (used 6 cups low sodium fat-free chicken broth and 1 cup water and 1 vegetable bouillion), and some for preference (added a TBLSP lime juice, chopped cilantro and shredded fat free cheddar cheese). The results were fabuluous! I even got DH to eat beans and veggies . . . quite an accomplishment. Thanks for a great recipe!
Saute onion, garlic, celery and green pepper in olive oil in soup pot.
Once onions are soft (about 5 minutes) add water, bouillon, tomatoes, black beans and chicken to pot and bring to a low simmer.
(Use chicken broth instead of water and bouillon if you prefer).
Remove corn kernels from cob and add to soup.
Add whole ancho chilies to pot for a minute, just to get the dried chili to soften a bit.
Remove from pot.
Tear off stalk and remove seeds.
Dice chilies into small pieces and return to simmering pot.
Let soup simmer 20 minutes and remove chicken from pot.
Shred or dice chicken and return to pot.
Add barley and let soup simmer for 25 minutes.
Add zucchini and let simmer an additional 25 minutes.