pines506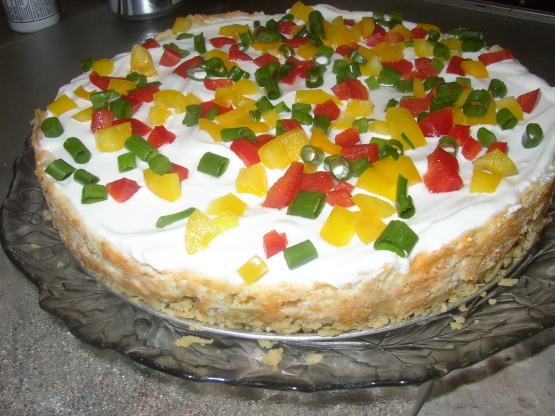 This is great appetizer cheesecake. Feeds a bunch. Serve it with tortilla chips and celery sticks. Cook time includes chill time.

Rave reviews from family & friends. I find it makes way more than 8-10 servings. Maybe 16-20+. You can cut way back on the fat using 1/3 less fat cream cheese, or 8oz 1/3 less fat + 8 oz fat free cream cheese. That plus low fat cream cheese still tastes awesome! I get requests for it all the time.
Preheat oven to 325.
Stir together chips and margarine and press into a 9-inch springform pan.
Bake for 15 minutes.
Beatg cream cheese and eggs in large bowl at medium speed until well blended.
Stir in the co-jack cheese and the chilis and pour over crust.
Bake for 30 minutes.
Cool completely.
Spread sour cream over cheese cake and sprinkle on toppings.
Chill 1-2 hours.
Remove from cake pan after chilling.
Let sit out to"soften" a little or you'll break your tortilla chips!
before serving.
Serve on platter surrounded by tortilla chips and celery sticks.