Nimz1466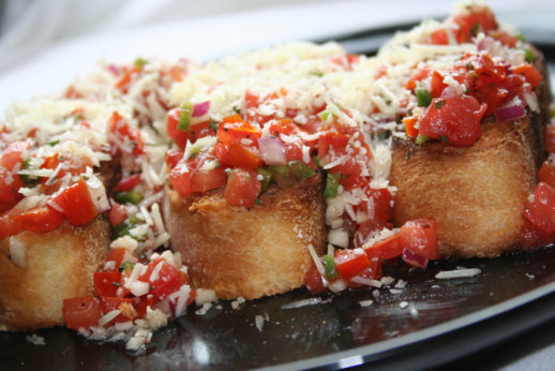 This is my own creation. While cruising the Sea of Cortez (with no super markets in sight) I needed to come up with an appetizer to take to a 'dingy raft-up' party.

Top Review by MamaJ
YUM! This was a quick and delicious appetizer. The balsamic vinegar and the jalapeno give it that little something extra that makes it different than most tomato based bruschettas. I forgot to add the oil to the mix so I just drizzled it over each bruschetta after I topped it with the tomatoes. Thanks for posting Galley Wench.
Mix chopped garlic, vinegar, salt, pepper, and cilantro.
Slowly stir in oil.
Add chopped tomatoes and jalapenos and allow to sit for 30 minutes at room temperature.
Meanwhile place the bread rounds on cookie sheet and lightly toast under broiler.
When the bread is toasted rub tops of toast with whole garlic pieces.
Top bread with tomato mixture.
Sprinkle on a little cheese and if desired, pop into warm oven to melt cheese.
Serve immediately.