Southwestern Broccoli Quiche
loof751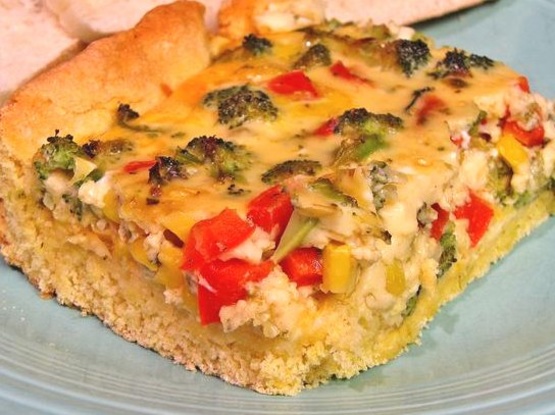 Interesting take on quiche as it uses refrigerated cornbread twist dough as the base for this spicy southwestern veggie quiche. Recipe is from Cooking Light Magazine.

This is terrific! I couldn't find those cornbread twists so I made some cornbread (from the recipe on the cornmeal box) and just added enough extra flour to make a dough that was similar in texture to the twists. Loved the filling, great with the broccoli and you could probably sub other veggies as well. Thanks for sharing the recipe!
Preheat oven to 350 degrees F.
Unroll dough, unfold layers (do not separate into strips). Place layers lengthwise, end to end, into an 11 x 7 inch baking dish coated with cooking spray. Pinch ends in the middle to seal, press dough up sides of dish. Set aside.
Heat vegetable oil in a large nonstick skillet over medium-high heat. Add onion, garlic and jalapeno; saute 3 minutes or until soft. Add corn and the next 5 ingredients (corn through broccoli); saute for 5 minutes or until vegetables are soft and liquid evaporates. Remove from heat, and cool 5 minutes. Combine milk, egg whites, egg and salt; stir well with a whisk. Sprinkle cheese over dough. Spoon broccoli mixture evenly into pan. Pour milk mixture over broccoli mixture. Place dish on a baking sheet. Bake at 350 degrees for 45 minutes; cover and bake for an additional 10 minutes or until set. Let stand 10 minutes before serving.