southwestern barley salad
PanNan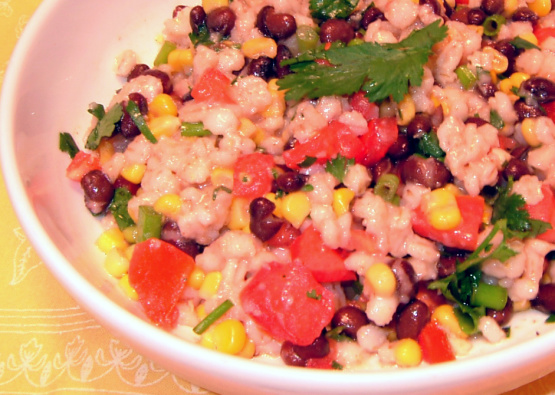 i don't know where this recipe came from, i had it scribbled on paper. but it is a nice side dish to any grilled steak. prep time doesn't include time for cooking the barley

Excellent combination of flavors and textures. I grilled fresh corn on the cob in the husk, and cooked the barley in chicken broth. There was a little broth left when the barley was done, so I omitted the water in the dressing - also added a little more chili powder after tasting. I used halved cherry tomatoes instead of the plum tomatoes. I like the light dressing, and the colors of the veggies with the barley and beans makes a nice presentation. I'm sure I'll be making this often.
mix the first 6 ingredients together in a large bowl, season with salt& pepper mix the dressing ingredients together, pour over salad.
serve at room temperature.