Southwest Vegetarian Bake
Redsie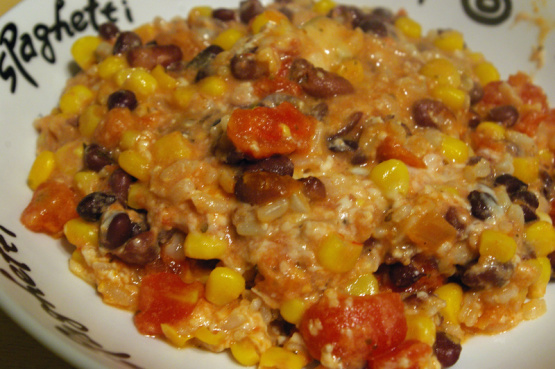 This is a good hearty winter meal. It can easily be made healthier by using low fat sour cream and cheese.

Just served this for my mom's 95th birthday and we were all very pleased. I had just read that nonfat Greek yogurt is a great substitute for sour cream, so I made that switch. Worked great. Thanks so much for sharing!
In a large saucepan, bring rice and water to a boil. Reduce heat; cover and simmer for 35-40 minutes, until tender.
In a bowl, combine beans, corn, tomatoes, salsa, sour cream, cheddar, pepper and rice. Transfer to a 2 1/2 quart baking dish coated with nonstick spray. Sprinkle onions and olives over top.
Bake, uncovered, at 350°F for 30 minutes. Sprinkle Mexican cheese over top. Bake 5-10 minutes longer, until cheese is melted.
Let stand 10 minutes.