Redsie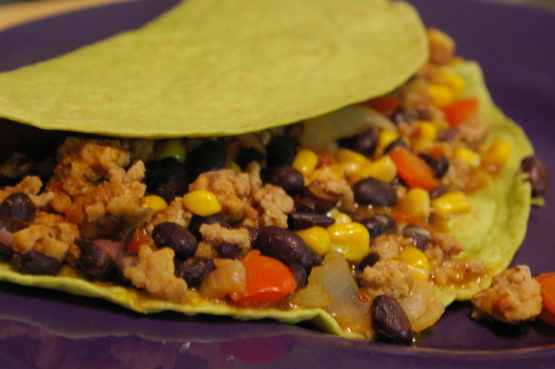 This is incredibally simple. Just throw it together, the leftovers are great too!

These were soooo good, fast, and easy! My DH loved them! We used half an onion diced, 2 garlic gloves, 1 dried jalapeno along with 1 fresh jalapeno, and a tsp cumin. Used tomatoes with green chilies (canned) and plain frozen corn. Browned the meat, threw in the onions and garlic, added the rest! Took just a few minutes! Served on tortillas with fat-free sour cream, lettuce, black olives, and cheese. THANK YOU FOR THIS EASY & HEALTHY RECIPE!
Spray skillet with nonstick spray.
Cook turkey over medium-high heat, stirring occasionally, until no longer pink.
Stir in remaining ingredients. Cook an additional 8-10 minutes.
Stir until sauce is slightly thickened.
Served with tortillas.