Southwest Turkey Burgers W/ Easy Guacamole
m&jcooks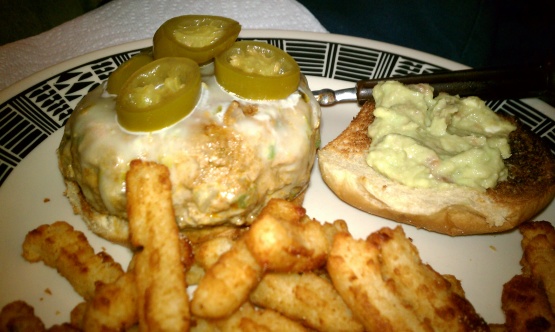 My sister makes these and they are pretty much amazing. These burgers are a highly requested item when she comes around! She taught me how to make them, too, so when she isn't around our family can get their fix.
Spray a medium saucepan with cooking spray and sautee bell peppers and onions until tender. Set aside.
Using your hands, combine ground turkey, egg, taco seasoning, peppers and onions in a mixing bowl.
Form into four patties and grill until cooked all the way through. You may also choose to cook in a deep skillet on the stove, if desired. When nearly cooked, place a slice of pepperjack cheese on top to melt.
While burgers are cooking, prepare guacamole.
Combine all guacamole ingredients in a medium mixing bowl.
Serve burgers on buns and topped with a heaping scoop of guacamole. Make sure to have tortilla chips on hand for any left over guac!