Deb G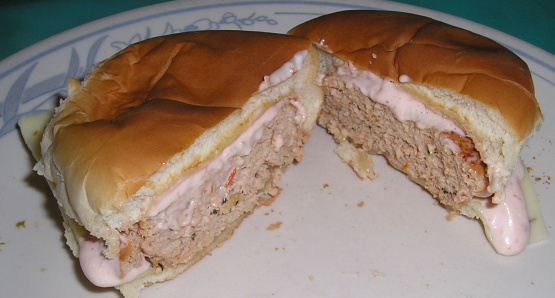 This recipe puts a spin on the regular turkey burger. Trying to eat healthy can get pretty bland, but this turkey burger surprised me! It was very easy to make and I had all the ingredients on hand. It's perfect for the cook who doesn't want to put in much effort, but wants to please the crowd that's eating! You can also kick up the spice to whatever level you can handle.

Top Review by Deb G
Great tasting turkey burgers. I used garlic powder instead of salt and only 1 tsp. of Lawry's seasoned salt, and for us it was plenty. I omitted the cayenne pepper so my sons would try this, but used pepper jack cheese on my sandwich. Great lunch with baked beans, chips, and dill pickles on the side. Also made a sauce of equal parts salsa and mayo. Really good. Thanks for posting.
Start by crumbling the raw turkey meat in a large bowl. Pour in the salsa and the rest of the spices. Mix all ingredients in well with the meat. (You may add extra or less of a particular seasoning if you'd like)
Form 4 patties with the meat mixture. Try not to make them too tightly packed, because when they cook they puff up a little and get pretty thick.
Spray a large skillet with olive oil cooking spray and put it on medium heat. Cook the four burgers for about 6 minutes on each side, until browned and cooked all the way through. (you may also grill the burgers).
Put the burger on a bun, add cheese and whatever other toppings you would like.
I mixed light mayo and salsa together to make a creamy sauce to spread on top of my burger. You could also sub the light mayo for light sour cream.
ENjOY!