Southwest Steak and Salsa Sandwich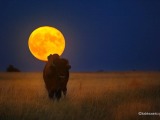 A great way to serve grilled steak, and very easy. Recipe was found in in the Betty Crocker "Grill It!" cookbook. I hope you enjoy it.
Directions
Heat grill to medium heat.
Sprinkle meat on both sides with salt, garlic pepper, chili powder and oregano.
Cover and grill meat 4-6 inches from heat for 8-9 minutes, turning once or twice, until desired doneness.
Split and toast buns on grill for last few minutes grilling.
Remove meat and slice across the grain into thin slices.
Spread 2 Tbsp of salsa on bottom of each roll, top with steak, cheese, avocado and top of rolls.
Reviews
Most Helpful
Another winner. I made these with shaved steak, onions and peppers sauteed together with the seasonings listed. Served with the salsa/french dressing combo from Chicken BLT Taco Salad. Delicious!

These sandwiches were fantastic!! They were incredibly easy to make and went together very quickly. I did add 1/2 tsp. of cumin to the meat rub (to me, anything Southwest, Tex Mex, or Mexican HAS to have cumin in it...lol). My very picky son had two of these sandwiches. Oz, when my son has "seconds" of anything, I know it is a winner!! Thank you so much for sharing this recipe. It is a keeper. Congrats again on your football win.
Oz, these were killer!! The absolutely only thing I did different was to add some sourcream. I mixed it with the salsa and used it as a spread. I'll be making these often. They are easy and YUMMY. John and Kaden both gobbled them down. Congrats on you football pool win.