Southwest Smothered Chicken
teresas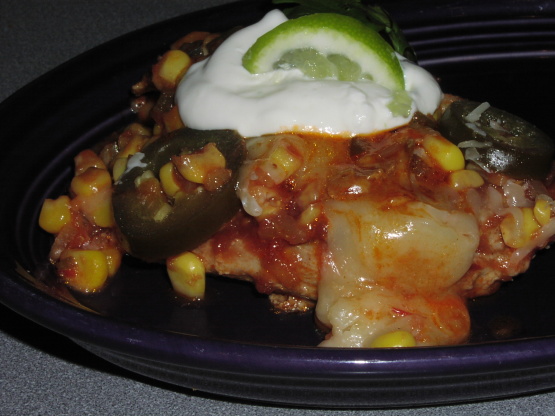 There's a fiesta in every bite of of this tasty chicken dish.

I knew we would love this...it has all the ingredients we enjoy...I replaced the chicken with pheasant and used a hot salsa...very easy and tasty recipe...I topped it with recipe #222313 for an added tang to the dish...yummy...I'm keeping this one close by...thanks for posting it...:)
Flatten chicken to 1/2 inch thickness.
Sprinkle both sides with cumin and cayenne.
In a large skillet, cook chicken in oil over medium heat for 4-5 minutes on each side or until no longer pink.
Meanwhile combine corn, and salsa, and spoon over chicken.
Top with cheese and jalapenos.
Cover and cook for 3-5 minutes or until heated through and cheese is melted.
Top each with chicken breast, and a dollop of sour cream.