Southwest Seafood Burritos
Kats Mom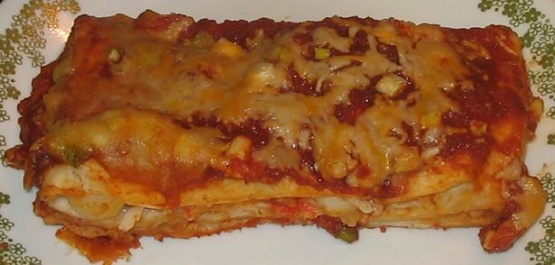 Mild, tasty and easy to make. My less expensive spin on a recipe find at www.allrecipes.com.

We prefer bold & tasty to mild & tasty but this recipe sounded so good that I just gave it a shot in the arm. I used the imitation crab with scallops instead of shrimp, substituted 10 oz. chili sauce for one of the cans of enchilada sauce and used just 8 oz. cheese. My DH says he would pay money in a restaurant for these! Very good and easy. You can make up the casserole ahead of time and just pop it in the oven. Thanks!
Preheat oven to 350°F (175°C).
Combine shrimp and shredded lobster/crab meat and mix well.
Reserve 1/4-1/2 cup shredded cheese to top enchiladas with.
Warm each tortilla before rolling (I put each one in the microwave on HIGH for 14 seconds) lay warmed tortilla on a flat surface.
Place approximately 3/4 cup of seafood mixture across bottom third of tortilla; sprinkle some cheese on seafood mixture.
Roll tortilla to halfway point carefully tucking seafood mixture inside.
Fold in each side and finish rolling tortilla.
Place rolled tortillas side by side in a 9x13-inch baking pan.
When all tortillas have been rolled (enchiladas) and placed in pan, pour enchilada sauce over all of the enchiladas.
The sauce should cover the enchiladas completely.
Sprinkle the chopped green onion then the remaining cheese over the top of enchiladas.
Cover and bake at 350°F (175°C) for 30 minutes.
Uncover and cook an additional 15-20 minutes.
Serve hot garnished with sour cream and additional green onions if desired.