loof751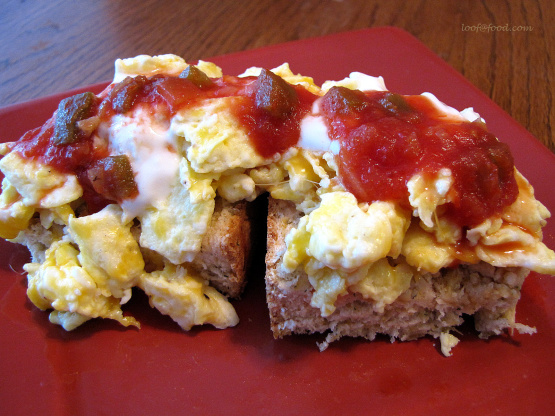 Great easy and tasty breakfast! First time I've put sour cream on eggs but I liked it with the salsa. Served on a thick slice of herb bread instead of an english muffin and really enjoyed - thanks for sharing the recipe! Made for ZWT8, Chefs gone WILD!
Toast the muffins.
In a bowl, beat the eggs, milk, slat and pepper.
In a large nonstick frying pan, heat oil over medium-high heat.
Pour in the egg mixture.
With a wooden spoon or spatula, push the eggs from one side of the pan to the other, lifting and folding eggs until they all form into clumps (about 2 to 2 1/2 min).
Remove from heat and stir in cheese until melted.
Place egg mixture on top of each muffin half.
Top with sour cream and salsa.