JustJanS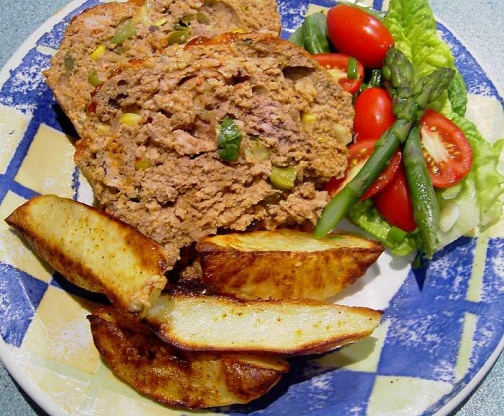 Spice up your life with this unique recipe. Suprise your family and wow! your guests.

Loved the flavour, and the texture the bits and pieces through out gave it, but it was just too moist and crumbly even though I packed it in before cooking, and let it stand before cutting. I will make this again, but will reduce the the egg to 1 and cut out some of the chilli sauce to make a firmer mix. I used a Byron Bay Picante sauce, and mixed tomato sauce (ketcup) with a hot chilli sauce to make the cup of chilli sauce required. It cuts beautifully, cold, for sandwiches. [Editor's Note: recipe was updated as a result of this review 6/10/03]
Preheat oven to 350 F degrees.
Combine all ingredients except chili sauce and mix with you hands.
Place into a 9x5" loaf pan, top with chili sauce and cover with foil.
Bake 60 minutes, remove foil and bake 30 minutes.