Kathy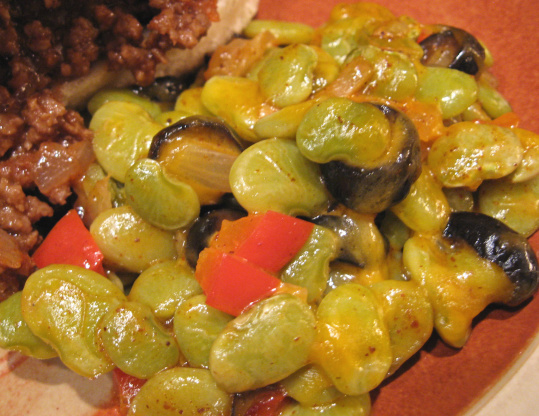 Lima beans with a southwest flavor.

This got really mixed reviews at my house. My son who loves lima beans wouldn't take more than one bite and I didn't like it much either. My husband loved it. I just felt that the sauce lacked flavor. The chili powder really did nothing for me. I think I would have liked it better had it been a butter sauce. Of course more cheese can fix just about anything but I really didn't want to go that route.
Preheat oven to 375*F.
Heat oil in large saucepan over medium-high heat. Add onion, bell pepper and garlic; saute until soft.
Add olives and lima beans.
Stir in 1/2 cup cheese.
Add water to reserved cooking liquid to measure 1 1/4 cups; add to saucepan.
Place over high heat; bring to boiling.
Add chili powder, dissolved cornstarch, and to salt to taste; stir till starts to thicken.
Pour over beans; mix well.
Place in greased ovenproof casserole dish; cover with foil.
Bake 45 minutes.
Uncover, sprinkle with remaining cheese and bake until cheese melts.