Southwest Easy Oven Chicken
Derf2440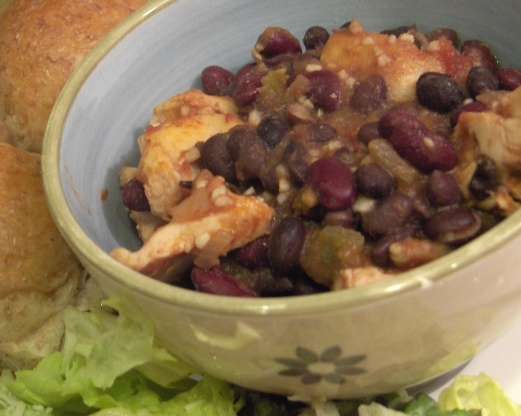 This recipe came from a friend and is super delicious. It's easy and healthy. I love beans and chicken so this is one of my favorite meals.

Top Review by O-mama
Have made this a few times for our family and it's been added to the 'meal plan' cookbook. Adding a load of cheese to the leftovers makes this a tasty dip as well.

One time I tried adding rice (oven rice: 1 part rice, 2 parts liquid 1hr at 350). It had turned out okay but I think I might either do less rice or just keep it as the original recipe.

Not so awesome in a crockpot--I'd recommend tinkering with the original recipe if you wanted this to be a regular crockpot meal.

10/1/2012 UPDATE: We make this regularly and refer to it as "Naked Burritos." We serve it on a bed of rice, and for those that can do dairy it is topped with cheese and sour cream. We consume it with tortilla chips rather than forks. We have been enjoying this gem for at least 7yrs now!
In a 13 x 9 inch baking pan, combined the broth, beans, salsa, and garlic.
Add the chicken and mix everything together.
Bake at 350F for 45 minutes, stirring after the first 20 minutes.