Southwest Chopped Salad (Healthy!)
Pam-I-Am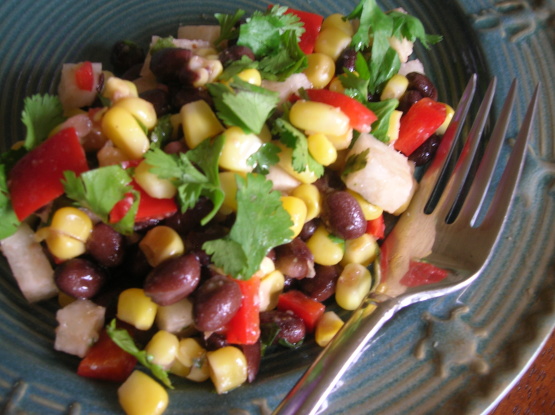 This is a very good salad--nice to have the southwest flavor and still have the healthy benefits. Only 2 tsp olive oil!

Top Review by ellie_
Wonderful salad with just the right amount of spice. Although I didn't use any mirin because I didin't know what it was subsituting 1 tablespoon vinegar and eliminated the cumin the dressing was still delicious. Thanks Meow for posting this keeper recipe.
If using fresh corn, either grill the corn on an outdoor grill, roast in the oven or cook briefly in boiling water.
Slice the kernels from the cobs.
(If using frozen corn, thaw it under cool running water.) In a large bowl, combine corn, bell peppers, jícama, if you decide to use it, and black beans.
In a small bowl, stir together lime juice, mirin, olive oil, chipotles, cilantro, cumin and salt.
Pour over the vegetables and toss to mix.
Chill for at least 30 minutes to allow flavors to blend.
Garnish with a few cilantro leaves before serving.