Southwest Chicken & Rice Casserole
Pam-I-Am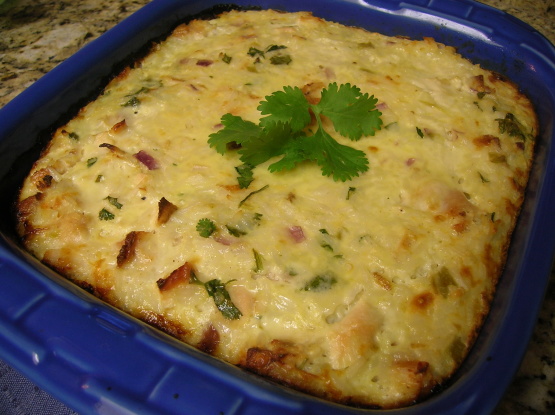 A hearty comfort-food dinner with a little zing. If you like more heat in yours, use pepper-jack cheese instead of regular monterey jack cheese. Cuts into nice square servings. Serve with a green salad and dinner's complete!

This is such a delicious and different casserole! I loved how it wasn't like any other casserole I have ever had. It comes out spicy, creamy, and cheesy! We ate it all up fast. Thanks!
Preheat oven to 350°F Grease 2 quart or 8x8 casserole dish.
Prepare rice as directed to make 2 cups of cooked rice.
Saute 2 chicken breasts in a shallow pan using olive oil, salt and pepper until done. Chop chicken breasts into bite size pieces.
Combine all ingredients in a large bowl and mix well. Pour mixture into greased (or sprayed) casserole dish.
Bake for 40 minutes. Cut into squares and serve.