Southwest Chicken Quesadillas
Bergy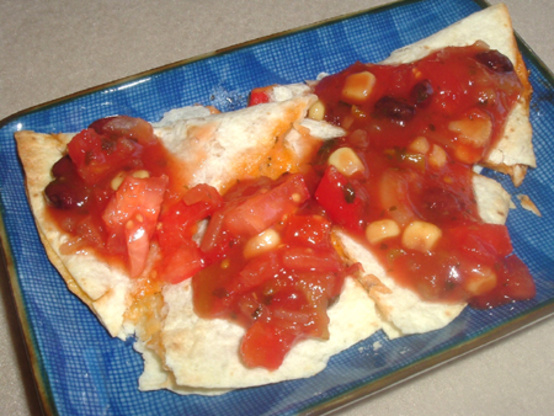 These quesadillas are perfect for dinnertime, lunchtime - even party time!" And easy to make. I got this recipe from Crisco.

Tasty! I love that this recipe is flexible for individual's "hotness" preferences...I like my Mexican food hot! The mayo really made the sauce thicker, which helped. Make sure to put the sauce on the entire tortilla or else it will be crispy where there was no sauce. Overall I thought it was great and I would make it again....thanks for posting!
Heat oven to 450°F Line 2 baking sheets with heavy-duty aluminum foil. Spray with CRISCO® No-Stick Cooking Spray.
In a medium mixing bowl, combine chicken, salsa, salt, pepper, mayonnaise, chili powder and minced cilantro.
Arrange 4 tortillas on baking sheet. Top with chicken mixture. Top with remaining 4 tortillas; press closed gently.
Bake 5 minutes. Remove baking sheets from oven. Carefully turn quesadillas with spatula.
Return to oven; bake 5 minutes more, or until browned. Let stand 2 minutes. Cut each in quarters.
Serve immediately, with additional salsa and sour cream if desired.