Kathy228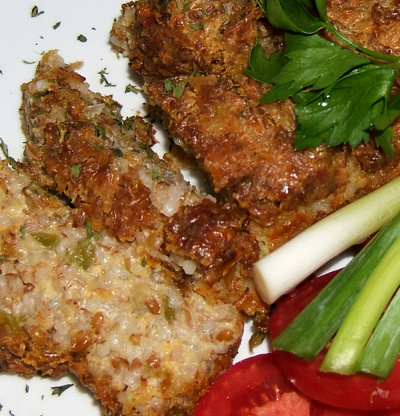 From Betty Crocker's New Eat and Lose Weight Cookbook.

A superbly flavoursome vegetarian loaf. It was Kathy228's wonderful photographs and then -a reading of the ingredients - that lured me into wanting to make this recipe. The only hitch, for me, was the inclusion of chili and chillies (I have zero tolerance of hot spices) , but Sam #3 gave me the okay to make it without these ingredients. So then I had the challenge of introducing flavours to compensate for the omitted ingredients. I simply added what goes well with tabbouli (and I far from exhausted the possibilities here) and added 1/2 cup chopped parsley, 2 teaspoons lemon juice, a cup of thinly sliced mushrooms (from memories of a wonderful vegetarian terrine eaten on several occasions in a restaurant) and about a teaspoon of thyme. Then, prompted by Kathy228's comment that the loaf tasted as if there were nuts in it, I added 1/4 cup chopped pistachios. I've never seen monterey jack cheese for sale here, so I used one of Zaar's suggested substitutions: gouda. We ate this wonderful loaf warm with Shelby Jo's Dutch Potatoes 317320 and ChicagoRN Tomato and Feta Salad 317347. Sam #3, thank you so, so much for posting this recipe. I'm feeling totally impatient to explore a lot more possible variations of it. This initial adaptation we really loved. To use bulgur and rice as the base is just such a brilliant idea. So again, thank you! Made for the Please Review My Recipe tag game.
Preheat oven to 350°F.
Mix all ingredients in loaf pan.
Bake 30 minutes.
Let stand 10 mins before slicing.