Boomette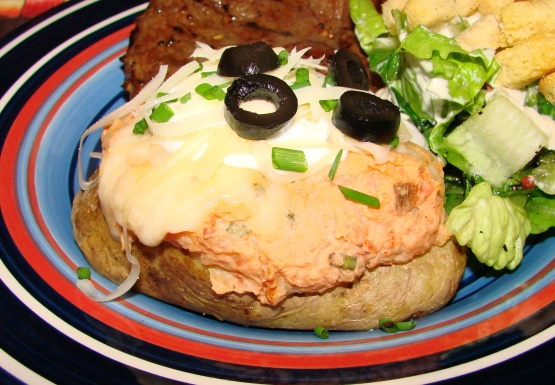 Lowfat twice baked potatoes with a taste of the Southwest.

I made these to serve with a green salad for lunch, but they would be good with almost anything. I microwaved the potatoes until they were soft enough to scoop out & then baked them for the final cooking time. The salsa flavor added a nice change to twice baked potatoes. Ole!
Preheat oven to 425°F
Scrub potatoes; pat dry. Pierce potatoes several times with a fork. Bake until tender, about 1 hour.
Remove potatoes from the oven; reduce oven temperature to 350°F
Slice off tops of potatoes. Scoop out insides, keeping shells intact.
In a medium bowl, mash potatoes. Stir in salsa and 1 cup of sour cream.
Spoon potato mixture evenly into shells.
Sprinkle 1/4 cup of Monterey Jack cheese over tops. Place potatoes on a baking sheet. Bake until cheese melts, about 20 minutes.
Place potatoes on serving plates. Top with remaining sour cream and cheese. Sprinkle cilantro, olives, and jalapeno pepper on top. Serve immediately.