Southerwestern Pork Tenderloin With Corn Salad
Boomette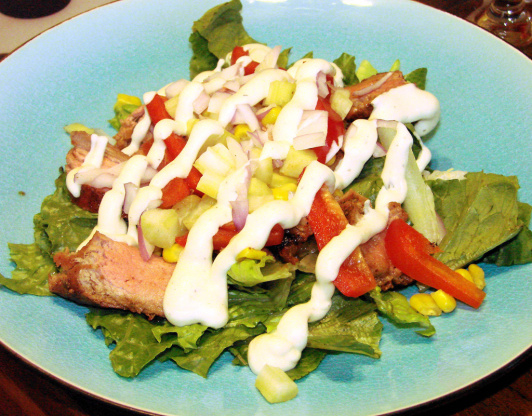 Cumin and chili powder give this fresh dish a kick! Pork tenderloin is my favourite cut of pork and it's highlighted by the delicious base of greens, corn and other veggies. This is from a local grocery store's magazine. Enjoy!
This is a wonderful recipe that we'll be doing often. Even my son loved it. I omitted the cumin because it's not a spice we really like. The meat was so tasty. DH cooked it on the bbq. I used frozen corn, thawed. Red onion for me and none for DH and DS. This is filling and healthy. And fresh, just perfect for the summer. We have leftovers for tonight and I'm so happy. Thanks Nif :) Made for PRMR tag game
Preheat oven to 400°F . Butterfly the tenderloin by halving the thickness so it opens up like a book into a long, flat piece. Set aside.
Combine the brown sugar with the chili powder and cumin. Rub over all sides of the meat. Place pork on a lightly oiled ovenproof rack set on a foil-lined baking sheet. Roast, turning once, for 15 minutes (or until internal temperature reaches 160F). Rest for 5 minutes; slice thinly.
Arrange the shredded romaine on a plate. Top with the sliced pork, corn, red pepper, celery and onion. Drizzle with dressing and serve.