Southern Sweet Potato Salad
Debbwl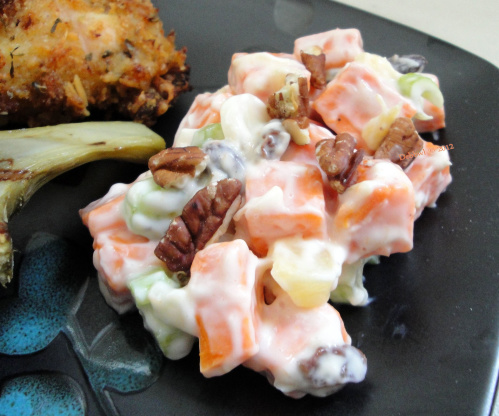 From my Cooks of the Green Door cookbook. Haven't tried this salad, but it sounds really delish! Feel free to modify the amount of sour cream and mayo to suit your tastes.

Top Review by Debbwl
What a delightful change of pace this salad is! We really thought the pecans brought a great layer of flavor and texture. I did cut the recipe way down making just a quarter and yes it cuts down very well, the only thing I would do different next is to cut down the mayo and sour cream just a smidgen as there was little more than DH and I want on ours. But we both enjoyed the flavor and thought it would be a good pot luck dish and will be made again this summer. Thanks for the post.
Bring a large pot of salted water to a boil. Add sweet potato cubes. Boil about 5-7 minutes just until tender but firm enough to hold their shape. Drain into a colander and rinse under cold water. Drain well. In a large bowl gently toss sweet potatoes with celery, green onions, raisins, pineapple and pecans.
In medium bowl, mix together mayonnaise, sour cream, vinegar, honey, salt and pepper. Gently toss with sweet potato mixture. Cover and refrigerate until serving time.