Southern Sweet Potato Salad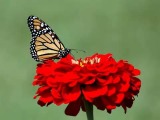 From my Cooks of the Green Door cookbook. Haven't tried this salad, but it sounds really delish! Feel free to modify the amount of sour cream and mayo to suit your tastes.
Directions
Bring a large pot of salted water to a boil. Add sweet potato cubes. Boil about 5-7 minutes just until tender but firm enough to hold their shape. Drain into a colander and rinse under cold water. Drain well. In a large bowl gently toss sweet potatoes with celery, green onions, raisins, pineapple and pecans.
In medium bowl, mix together mayonnaise, sour cream, vinegar, honey, salt and pepper. Gently toss with sweet potato mixture. Cover and refrigerate until serving time.