Southern Style Seasoned Green Beans (From Canned)
lazyme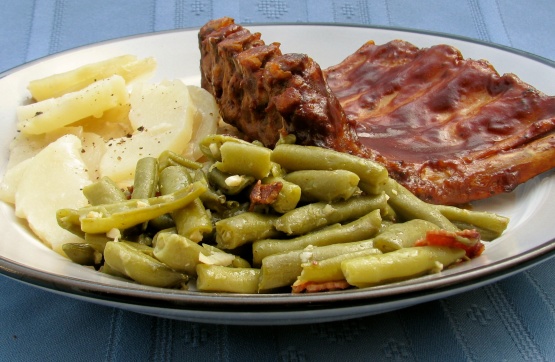 A lot of folks simply open a couple of cans of green beans, heat, add a bit of butter...and wonder why no one eats them! This simple little "tweak" turns them into a delicious, satisfying side that'll change the way you think of canned green beans.

Yes, yes, yes! These are delicious! I add more garlic mainly because we are addicted to it, and some dehydrated chopped onion. I also drain the cans of green beans and then add back about a cup of chicken broth or bouillion - and then cancel the salt. This is a wonderful way to get everyone in the family interested in eating their green beans!! Thanks so much!
2

(14 1/2 ounce) cans cut green beans (not french-style)

4

slices thick-cut bacon
1⁄4 teaspoon minced garlic
Cook the bacon in a heavy sauce pan (do not crisp the bacon, just cook enough to extract the drippings). Remove from heat.
Empty the 2 cans of cut green beans into the sauce pan directly on top of the cooked bacon and drippings.
Add salt to taste and then the 1/4 teaspoons of minced garlic. Stir well and return to heat.
Bring to a boil over medium heat, then reduce heat to med-low, cover, and simmer for at least 30 minutes (1 hour is better).
Serve and enjoy.
NOTE - Use good quality canned green beans. My family prefers "flat beans" (Cut Italian Green Beans), but regular cut will taste just as good.