diner524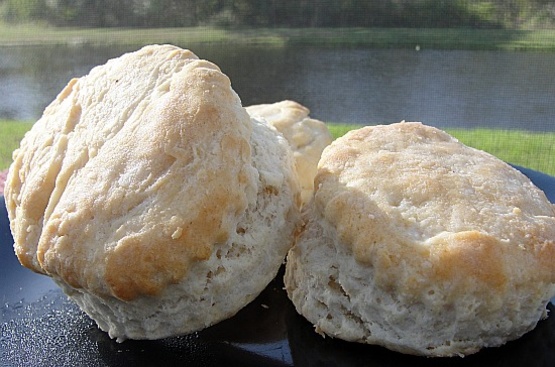 My mother-in-law made the best biscuits, but had no written recipe. This is the closest I have ever gotten to hers. I do use, just like she did, a soft wheat flour (only Martha White or White Lily). This recipe can be halved easily. Make sure you use self-rising flour.
What a fantastic recipe!!! I love biscuits and have tried many on here and this one ranks up at the top!!! I only made 1/4 of the recipe, which gave me 3 lovely large sized biscuits. These are so easy to throw to together, due to using the self rising flour (my store didn't have either of the recommended flours, so just used regular). I first made the buttermilk, using a splash of lemon juice mixed with my milk, then I cut in the fats while the milk was sitting. I think this is a little wetter than most biscuits doughs and really made the difference. The biscuits rose beautifully and were crisp on the crust and so tender and tasty on the inside. Thanks so much for sharing the recipe, a definite keeper. Made for Spring PAC 2011.
Cut the butter and shortening into the flour until it forms small pieces.
Make a well in the center of the flour mixture and add the buttermilk. Stir until the dry ingredients are moistened. Use the first amount of liquid listed; add more if it seems too dry. You want a "wet" dough, but not a drippy one.
Turn out onto a lightly floured surface and knead gently 3 to 4 times.
Roll out to 3/4 inch thickness. Cut into biscuits with a medium or large round cutter.
Place together on a lightly greased baking pan.
Bake at 425 degrees for 12 to 15 minutes or until golden.
Brush with melted butter, if desired. Serve while they are hot.