PaulaG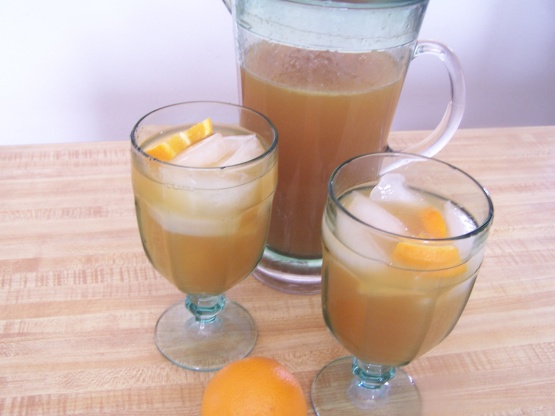 This is my mother's recipe, originally from the 1800's, modern conversions are in parentheses. I grew up drinking it in the winter but like it year round, even iced. I suggest letting the flavors in the tea blend before you serve it, the cloves will become more pronounced. No offense to you powdered spiced tea people, but this is the real thing!
Here's a wonderful tasting tea that really is good hot or cold. I made the whole batch, but sweetened it with Sweet & Low rather than sugar! The first two cups I had were HOT, & the rest went into the frig for a COLD drink or two [or three!]! I usually have a few quarts of 'fruited' green tea on hand anway, so this recipe was right up my alley! Thanks for posting it! [Tagged, made & reviewed in Cupid's Choice Beverage Tag game]
Add boiling water to tea, steep 5 minutes.
Strain (remove tea bags).
Make a syrup by boiling the sugar, cloves and water.
Add this syrup and fruit juices to the tea.
Serve hot or cold.