Southern Scalloped Potatoes
Pam-I-Am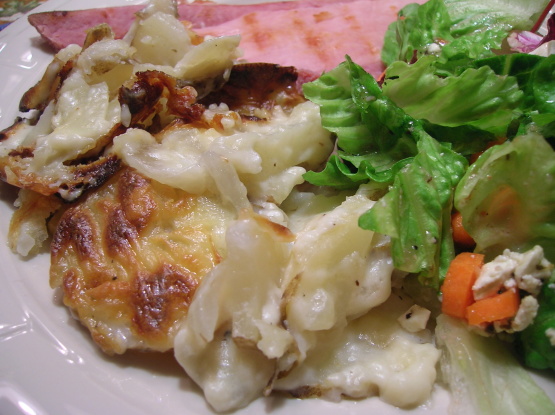 This delicious casserole hasn't been compromised by garlic and some other seasonings to detract from the traditional southern flavor, or gunked up with cheese to turn it into a gratin or doria. We enjoy this authentic southern dish year-round, so good in its creamy simplicity and subtle flavors. My family always expects it for Christmas dinner alongside the ham and cranberry chutney. Be your own judge regarding measurements. I learned from my grandmother and she never measured, so I've learned to guestimate on many of my recipes. NOTE: This dish can easily be frozen after baking, then thawed out and reheated. I do not recommend freezing without baking first, since potatoes will sometimes get mushy if frozen uncooked. I personally do not like a tin baking pan for this particular recipe, especially for freezing, since it can sometimes impart a "tinny" taste. Also, if this recipe is baked in a glass baking dish and then frozen, the glass will shatter if not at room temperature. So, if freezing in a glass baking dish, I recommend baking and freezing in Corning Ware since it will not break.

This was the perfect scalloped potato recipe that we all remember from those pot-luck dinners. It was simple to make, but had a wonderful flavor. Was perfect with an Easter ham and steamed asparagus.
Boil the potatoes until they're halfway done, then cut into slices about 1/4 inch thick.
Set aside.
Slice three onions and sauté in butter until transparent.
Sprinkle flour into this mixture and continue to sauté until flour begins to darken a little.
Add milk and continue stirring until the sauce is at the consistency you like.
It should be medium-thick.
Add sliced potatoes to the pan and mix very well.
Add salt and pepper to taste.
Pour into a greased baking dish and bake casserole at 350 degrees until it turns a bit brown.