teresas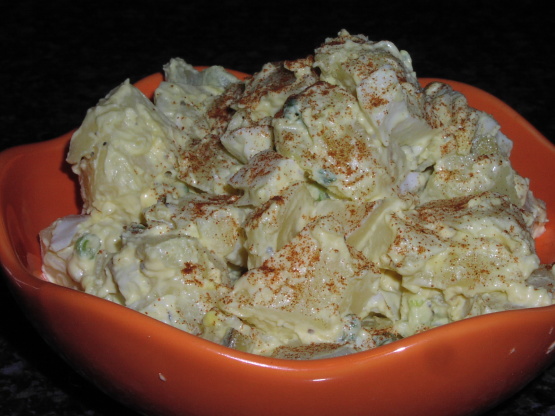 A most excellent recipe passed down from my grandmother and mother, a great treat all summer long. We make this whenever we BBQ. There are never any leftovers!
Cook potatoes in covered pot with boiling water 40 minutes or until tender; drain and cool.
Peel potatoes and cut into small pieces.
Separate egg whites from the yolks. Chop egg whites.
In a large bowl, stir together potato, egg whites, 1/2 tsp salt and green onions.
Using a fork, mash the yolks in a small bowl; add in mayo, pickle relish, mustard, and pepper; stirring until well blended.
Gently stir yolk mixture into potato mixture; adjust seasoning to taste with salt and pepper.
Cover and chill 2 hours (it is even better if you can chill this overnight and serve the next day).
Sprinkle with Paprika before serving.