Mercy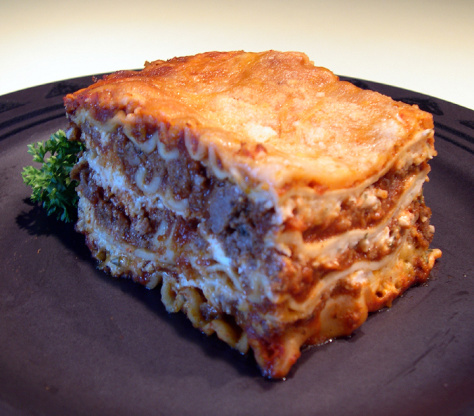 This is my sister's recipe. Vegetables, sausage or ground turkey can be substituted for the ground beef. This can be assembled the day before baking, just cover and refrigerate overnight.
Mix all the sauce ingredients together.
Mix all the filling ingredients together.
Layer the dry noodles, sauce and filling (three layers) in a greased baking dish (9"x13") starting and ending with sauce and leaving space around the edges of the noodles for expansion and for the remaining sauce (the sauce should be very soupy because the excess liquid will be absorbed by the noodles).
Top with additional Parmesan cheese and bake about ninety (90) minutes (I bake it for one hour covered and the last half hour uncovered) at 325°F or until bubbly in the center.