Southern Jiffy Corn Pudding

We always make this at Thanksgiving! This is NOT the "souffle" type corn pudding that most people make. I am a CORN fanatic, so I love this recipe. Is great for Thanksgiving, but is easy enough to make for an everyday meal.
Directions
Melt butter in a casserole dish.
Mix in egg and then all remaining ingredients.
Bake at 350 degrees for 1 hour.
Reviews
Most Helpful
Made this for the first time for Thanksgiving this year when we needed something quick but yummy. Easy as can be. Was able to set it on the counter to cool and then re-warm later with no loss of quality. <br/><br/>One thing I do suggest is, as another poster did, cool the melted butter before adding so the egg won't cook.<br/><br/>I sprayed a low casserole dish with a bit of cooking spray to ensure it didn't stick and it worked just fine that way. Delish!
So good! Made this exactly as stated but added 6TB of sugar to make it a bit sweeter. Just personal preference!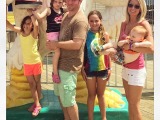 I made this per directions and it turned out great. I used a 8 X 8 baking dish and added a half tsp of Nutmeg for the holidays. A very easy recipe to make. This is a keeper. Thanks

Thanksgiving Tips & Ideas >