Southern Indian Rice and Seafood Soup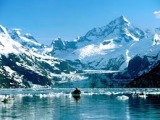 This recipe is by Jamie Oliver. It's easy to make, taking only about 30 minutes. You can use your choice of fish or shrimp (or a combination!). Firm fish works best, such as cod, haddock, etc. Have fun with it and enjoy!
Directions
In a large pan, heat up the oil and add the mustard seeds, curry leaves, cumin seeds, garam masala, chilli powder and turmeric. Cook for a few minutes.
Add the chillies, ginger, garlic and onions. Continue cooking slowly until the garlic and onions are soft.
Then add the rice and water. Bring to a boil then reduce the heat and simmer for 15 minutes.
Add the fish and coconut milk with a pinch of salt. Put the lid on the pan and simmer for another 10 minutes, then stir well to break up the pieces of fish. Taste and correct the seasoning with salt and pepper.
Just before serving, squeeze in the lime juice ans stir in half the cilantro. Serve in warmed bowls, sprinkle some freshly grated coconut (opt) and garnish with the rest of the cilantro.
Reviews
Most Helpful
Awesome. Although I will say a few things about it. First, the mustard seed for tempering is way too much- I used much less and recommend only 1 tablespoon. If you want more mustard flavor, try using mustard oil in the tempering, otherwise the soup will be chock full ofmustard seeds. Second, I don't recommend adding the powdered spices until after the onions cook, otherwise they risk burning. And the garam masala I would only stir in when the soup is done, when the lime juice is added, so the aromatic nature does not disappear. I did use a pan that was a bit large and I added more water to compensate when it started to evaporate on the rice, and that was fine. I do recommend using a firm fish steak or thick fish and avoid fillets or a fish like tilapia because thin or delicate fish tend to break apart- otherwise, just watch the fish while it cooks and remove it from heat when it is done. As for the flavor, this is quite like Thai coconut soup, very hot and very sour but it has a bit more curry flavor and is very Goan in flavor (would go great in a vindaloo meal). I would take care using both fresh chillies and chilli powder as the amounts are on the high end, although the heat in chillies will vary. It is not substantial enough for a meal by itself, but does make a light lunch. Plan on serving something with it, like flatbread or samosas. Overall, like I said: awesome. Nothing left but the empty pot. Thanks for sharing-
~s