Fauve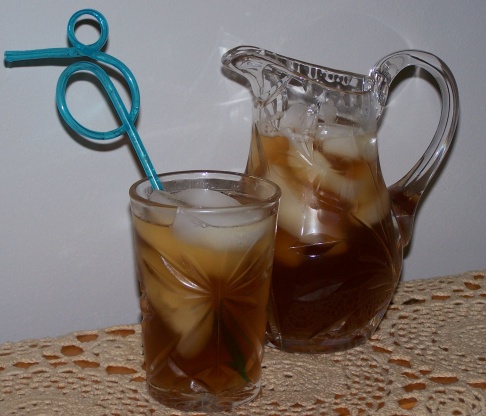 A table staple in most households and restaurants throughout the South. This is the beverage our mamas taught us to make.

I drink my iced tea unsweetened but my husband likes sweet tea so I just made this for him and he said, " Perfect"! So this is the way I will make it for him from now on, thanks
Place tea bags in a 2 quart glass pitcher.
Pour one quart boiling water over tea bags.
Let this steep for five minutes.
Remove tea bags from water, and press tea bags gently against the side of the container with the back of a wooden spoon.
Remove tea bags from container and discard.
Stir in one cup sugar.
Add the remaining one quart of water.
Stir, cool to room temperature.
Serve over ice.
If desired, garnish with lemon wedge.
Note: You may store any leftovers in the refrigerator, but the tea will turn a bit cloudy.
(This does not affect the taste).
If you want to take the haziness out of the tea, you may stir in 1/4 cup boiling water per quart of iced tea just before serving.