Debber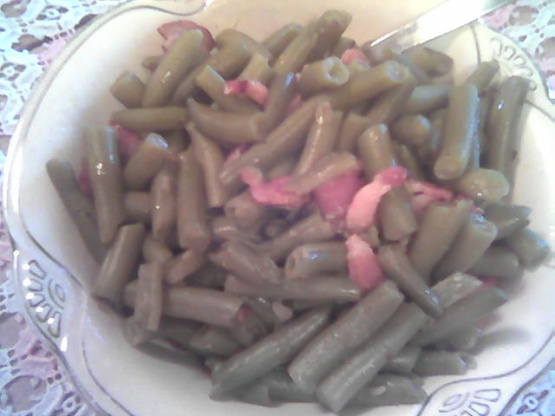 The Best Down Home Green beans you've ever had. Your family will love it.

Top Review by Debber
Tasty, very easy and NO LEFTOVERS! I left the onions out (this time) to give my onion-hating son a break, but will certainly try the recipe again and put onions in it. I used canned beans (they're out of season in our parts!), and of course didn't have to cook things more than a few minutes (once the bacon was done). I omitted the chicken broth and added a chix fat ice-cube with the beans and bacon. Anyway....this really hit the spot! *Made for PAC Spring 2007*
Snap the Green Beans and wash.
Place bacon in the bottom of the pot and let fry until a little crunchy.
Remove the Bacon and pour the bacon dripping from the pot (leave some drippings in the pot for flavor). Don't scrap the pan because you want the flavor of the bacon and the dripping to season your green beans.
Place the green beans, and the other ingredients into the pot with the Bacon
Cook until the green beans are soft. About 1 1/2 hour on low.