Southern Fried Salmon Patties
Lori Mama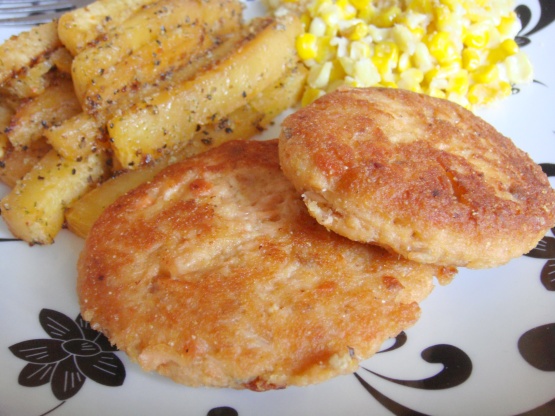 Salmon patties are quick and easy. I got this recipe from my son's babysitter many years ago. My son is now 20 and we still eat these at least a few times a month. These are very moist when done.

The hubby loved these! I used 2 small cans of (boneless, skinless) tuna, poured off the juice and added the ingredients as listed. Such a simple recipe, but oh so good! No need to change a thing. If you feel the need to spice it up...add a dash of hot sauce. Actually, you can add anything you want, but as I say..."If it ain't broke, don't fix it!"
Open salmon and drain thoroughly. Place drained salmon in mixing bowl and flake evenly with a fork.
Add onion, corn meal, flour, mayonnaise, and egg. Stir until well blended.
Shape the mixture into patties about the size of an average burger or less.
Cook in oil in skillet over medium heat until browned on each side. Turn once while frying.
Note: The mayonnaise helps the patties hold their shape and keeps them from being too dry.