lazyme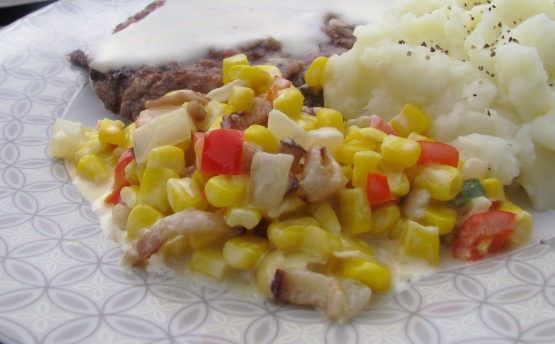 From Hallmark Magazine November/December 2006. I'm considering using fresh corn that has been grilled or roasted next time I prepare this...thought processes in motion...

Apart from using frozen corn, followed the recipe and very much enjoyed it. using frozen - even thawed - might have inhibited the absorption of the cream a little, I dont know, but overall I felt the dish was a great success!!! Liked the colourful peppers in it! Thank you Cookgirl, good recipe, made for International Agents of QUEST, USA Southern region
Place the corn kernels in a bowl and pour the heavy cream over the corn. Allow to sit while you fry the bacon and vegetables.
Cook the bacon over medium heat until crisp. Add the onions, bell pepper and jalapeno. Cook until onion is translucent; about 4-5 minutes.
Now add the corn/heavy cream mixture to the pot, stirring until ingredients are mixed well.
Stir in the salt, black pepper and sugar.
Reduce heat to simmer and cook, covered for about 25-30 minutes, stirring occasionally.
Serve hot.