Shawn C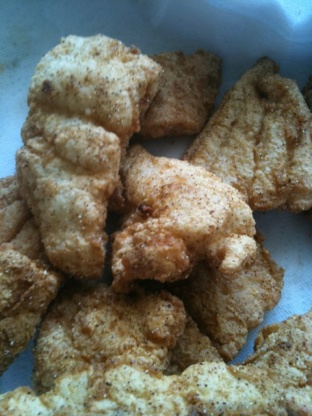 Almost all southern recipes are what is typically called soul food. My dad was a great cook, he often cooked for his soldiers while in the war in Vietnam. He loved cooking for crowds and I remember during the catfish tournaments he would help with frying all the catfish at the fish fry's. They would serve this along with huge pots of creamed corn- which I as a child helped to shuck fresh from the owners farm that day. Lots of watermellon and coleslaw, cucmber salads and all the summer picnic foods- WOW the memories that brings back.

Shawn, your memories serve you well. Mine go back to the early 40's and nothing has changed, except the availability of a bigger variety of off-the-shelf condiments. Our fish-fries were done in a huge cast iron kettle over a roaring fire in the back yard.. But the ingredients and process remains basically the same. I do prefer more cornmeal (yellow) than flour, paprika over Cayenne, milk along with the eggs for dredge, and also cut the fillets into 2 - 3 inch chunks. (They cook more thoroughly and provide more of that wonderful crunchy coating.) However you do it, this is one of those wonderful meals that folks remember forever. (There's a chance I could have tasted one of your dad's meals in the 'Nam days.') Keep on cookin'... Paul
wash and drain well fillets.
season fillets with salt and pepper.
mix eggs with lemon juice, garlic powder, and cayenne pepper.
in a recatngluar type dish for dredging mix flour, cornmeal, salt, pepper.
dip fillet in egg then flour making sure to get a really good coating on the fish, pat the flour in to get a good seal- if desired do it twice to get a heavy coating on.
we use a long cast iron frying pan that covers two burners on the stove to fry but you can fry outside or in a deep fryer using peanut oil which withstands higher heats. heat your oil very hot.
fry a few fillets at a tme until golden brown and let drain on paper towels or brown paper bags.
serve with tartarsauce, lemon juice and hot sauce if sesired.