Southern Creamy Mushroom Chicken
Nimz1466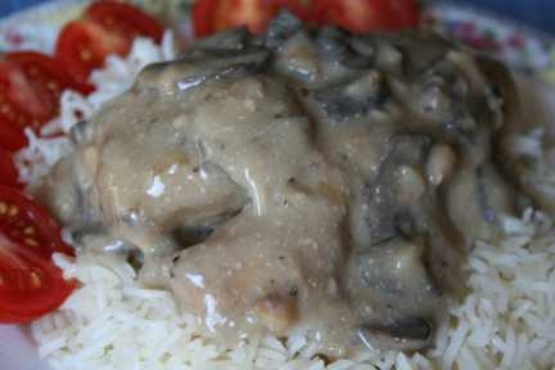 One of my favorite dishes, compiled from 3 other recipes. The sauce is rich and hearty - perfect for guests or good ole comfort food. Serve on a bed of rice, top with a chicken breast and then spoon the gravy over all. Mushrooms and onion sitting on top make for a nicer presentation.

This just didn't turn out anything like I expected. First off I did use apple juice instead of the wine so that might have had something to do with it, and I used half chicken breast without the bone or skin. I only used 1/3 cup of onion with the garlic and actually only added a little of that to each chicken breast. It just seemed like way to much. All of the soup mixture melted off each of the breast, so I ended up simmering it all together and basting the breast every few minutes. Not much we liked about this one. Was disappointed because it had all the ingredients that we like. Sorry.
In a medium size skillet heat Olive Oil.
Sprinkle the Chicken on all sides using Seasoning Mix. Amount would be your preference. (You can find this mix in your spice aisle or I suggest 1 tsp salt, 1/2 tsp garlic powder, 1/4 tsp pepper).
Brown Chicken (with skins) on all sides, using medium heat.
Transfer breasts to dutch oven (Meat up/bone down).
In same skillet, Saute Onion, Garlic in 2 Tablespoons of White Wine until tender and wine has almost evaporated.
Spoon onion mixture evenly over each chicken breast.
Gently spoon mushroom soup over chicken pieces and onion mixture.
Add Cream and remaining White Wine, pouring evenly in-between chicken pieces.
Using soup can, add Water and Worcestershire Sauce, mixing well with any leftover soup.
Pour gently over soup covered chicken.
Cover and SIMMER on Low to medium low heat for 25-30 minutes, checking several times.
In saute skillet, add sliced mushrooms and cook until they begin to slightly darken.
Spoon sauted mushrooms on top of chicken the last 10 minutes of cooking.
For plenty of sauce, make sure it doesn't cook down, lower temperature and add more water, cream, or wine if necessary.
Check for tenderness with a fork.
Serve over rice.