Southern-Cornmeal Crusted Catfish With Crunchy Corn Relish
Thorsten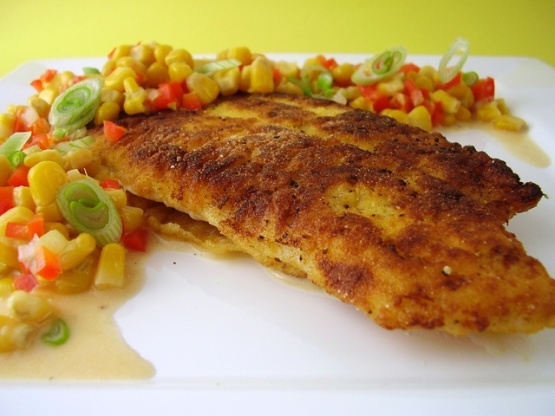 From the Catfish Institute.

Top Review by Kendra
I've used this recipe for catfish for years and it's one of my very favorites! I use plain nonfat yogurt to brush on the fish, and if it isn't fresh corn season or if I'm in a hurry, I've used canned Mexicorn (without the butter and water) for the relish. Thanks for posting!
To make Crunchy Corn Relish: Melt butter in a large skillet. Add water and corn; cover and simmer for 4 minutes. Stir in red pepper and cook for 1 additional minute. Add green onion, half-and-half, and salt and pepper to taste.
To make Southern Cornmeal Crusted Catfish: Stir together buttermilk or yogurt and hot sauce; brush on catfish and allow to marinate for 10 minutes. Coat catfish lightly with cornmeal and sprinkle with salt and pepper to taste.
Melt butter and olive oil in a nonstick skillet over medium high heat. When skillet is hot, sauté catfish about 3 minutes on each side, turning only once, until golden and crisp. Serve with relish. Makes 4 servings.