Southern Comfort Spiked, Spiced, Peach Jam
Rita1652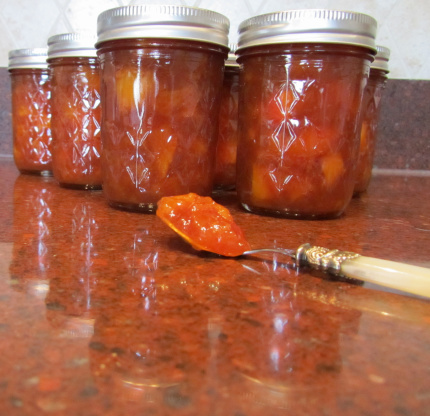 A Beautiful Amber colored jam studded with golden nuggets of spiced peaches. Brown sugar and Southern Comfort giving a nice caramel flavor and warmness from the spices making it great for the holidays. That is if you can save it till then. Top some chicken, pork, toast, pancakes, brie, ice cream or cold vanilla yogurt with this. I didn't peel my peaches but if you desire them peeled just, blanch the peaches in boiling water for 30 seconds, then submerse in an ice bath, then slip off the skins.

Made this today and couldn't believe how easy it was! The house smelled great while it was cooking, and we like the taste, although we found it too sweet, and lacking in peach flavor. I'll definately make it again, but I'll cut back on the sugar and Southern Comfort a bit. Can't wait to try it on a pork tenderloin!!
In a large bowl pr the saucepan sprinkle peaches with brown sugar and lemon juice and let sit while gathering all ingredients.
In a large heavy bottom saucepan combine peaches, lemon juice, pectin, cinnamon, cardamom, and nutmeg. Cook over high heat stirring frequently to prevent scorching about 10-15 minutes or until full rolling boil.
(OPTIONAL) Use a submersion blander if small pieces are desire.Avoiding the cinnamon sticks.
Stir in white sugar.
Return to a full rolling boil. Boil hard for (3) minutes stirring constantly.
Remove from heat and add Southern Comfort and vanilla extract. Remove cinnamon stick.
Skim off foam. Ladle in hot sterilized jars, wipe rims and place lids and screw top on.
Place in a hot water bath covering by 1 inch of water.
Process in boiling bath 10 minutes. Shut heat off and let sit in water bath 5 more minutes. Then remove the jars from the hot water without tilting and set aside to cool.
Leave for 12 hours then check the seals on the jars by pressing on the centers of the lids. If the lids do not spring back, they are vacuum sealed and the jam can be stored at room temperature. Another way to check is to remove the ring and try to lift the lid.
If it lifts up, it wasn't sealed properly.
If the lid flexes, there is no seal, so store the jar in the freezer or refrigerator instead.