Southern Comfort Baked Chicken Breasts
luvmybge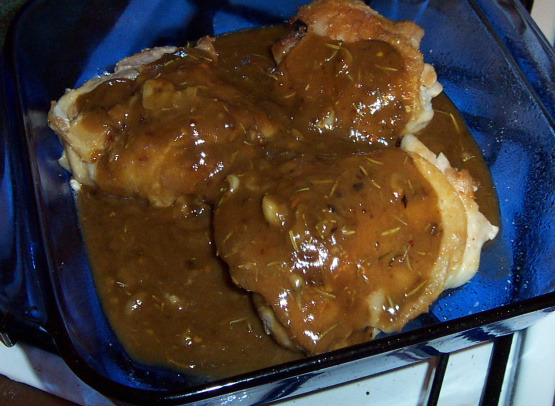 This comes out real yummy and the chicken gets so tender. Make sure you use the chicken breast quarters ( without the wings) with the skin on. Southern Comfort is a mixture of Bourbon and orange/fruit liquer. I serve this over white rice.

Very delicious. I had chicken thighs defrosted and that's what I used instead of breasts. I had to add about 3/4 cup of chicken broth to the sauce when it was completed because the sauce seemed to thicken up too much. I also only had 100 proof Southern Comfort (WhooHooo!! hic ).. I couldn't taste the alcohol, really. Very flavorful dish. Thanks petlover!
Preheat oven to 350 degrees F.
In deep, nonstick pan, heat olive oil over medium-high.
Brown chicken pieces ( both sides )in hot oil.
Place chicken breasts in 9 x 9 inch glass baking dish.
Saute garlic in pan until slighly browned.
Add pepper, brown sugar, sage, rosemary, thyme and flour to pan and mix/cook for 1 minute over medium.
Add Southern Comfort and mix well.
Cook over medium heat for 4-5 minutes.
Rub salt onto chicken breasts.
Pour sauce over chicken.
Cover dish tightly with aluminum foil.
Bake in oven for 1 hour.
Remove from oven and let dish sit ( keep covered) for 10 minutes minimum.
Remove cover and slice chicken off bone onto serving deep dish.
Spoon sauce over chicken and serve over rice.