Southern Coconut Cream Pie
Lvs2Cook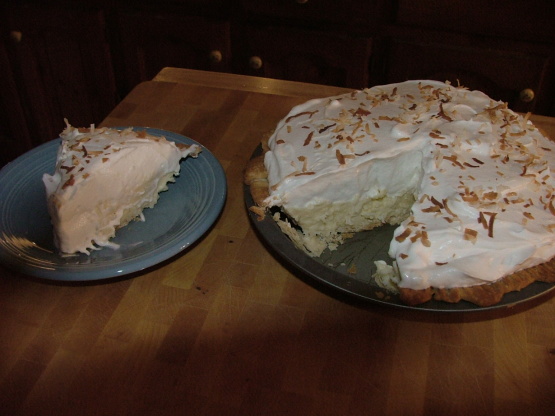 From Southern Living, a pie that's sure to please!

This is the most incredible coconut cream pie! Truly Southern, the filling is a custard cream that is to die for. Add to that a topping made from whipping cream and you will simply faint. Outrageously good!
Make and bake 1 piecrust according to directions for a one-cust pie.
Combine 1/2 cup sugar and cornstarch in a heavy saucepan. Whisk together half-and-half and egg yolks. Gradually whisk egg mixture into sugar mixture; bring to a boil over medium heat, whisking constantly. Boil 1 minute; remove from heat.
Stir in butter, 1 cup coconut, and 1 teaspoon vanilla. Cover with plastic wrap, placing wrap directly on filling in pan. Let stand 30 minutes. Spoon custard mixture into pie crust, cover and chill 30 minutes or until set.
Beat whipping cream at high speed with an electric mixer until foamy; gradually add 1/3 cup sugar and remaining 1 1/2 teaspoons vanilla, beating until soft peaks form. Spread or pipe whipped cream over pie filling. Garnish with toasted coconut if desired. Store uneaten pie in refrigerator.