Southern Cajun Italian Twist Chicken Bake
Brenda.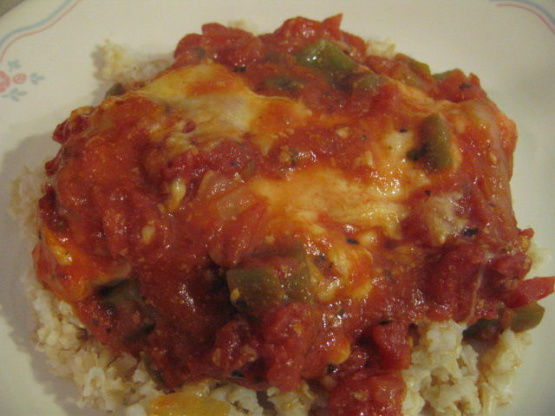 Prepare this dish in less than five minutes for the oven. Fast, but tastes like you simmered and fussed all day. It is similar to an Italian Chicken Bake recipe, but with a wonderful Southern Cajun Twist...thus, the name. Spice it up as hot as you like or simmer it down for those with sensitive tastebuds. Slide it in the oven and you will have a delicious, healthy meal to bookmark in your recipe box for future meals.

Amazing! It truly is a 5 minutes to oven recipe. I was a little heavy handed on the cajun seasoning and the dish had a nice bite. I made brown rice and it soaked up the yummy sauce perfectly. After the chicken had been in the oven about 20 minutes my DS came wandering out of his room wondering "What smells so good"? I am so happy I have leftovers for work tomorrow! Thanks for sharing your recipe. *Made for PAC Spring 2010*
Preheat oven to 400 degrees Fahrenheit.
Sprinkle chicken with garlic powder and place chicken in a greased 9x13 inch pan.
Cut onions and peppers and place over top of chicken.
Mix stewed tomatoes, tomato paste, and seasonings (except salt and pepper) together in bowl. Then, pour over chicken.
Shake salt and pepper over entire dish to taste.
Bake in oven for 40 minutes. Then, add cheese over chicken and bake another 20 minutes.
If you are serving over noodles, start boiling your noodles when you add the cheese. Drain noodles and ladle the sauce and one piece of chicken over each serving of noodles.
This dish is also good served over rice.